History
Tender care sustained for over 145 years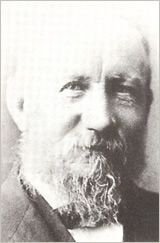 Founder:
Richard E. Keyte
1841-1921
Born in Worcestershire, England, Richard Keyte (1841 – 1921) came to Whangarei in 1865 and commenced business as a Builder and Undertaker in Cameron Street. His younger son, William Edward Keyte (1866 – 1957) entered into the business with his father, and after the latter's death, conducted the business from 11A Bank Street. In 1938 Edward went into partnership with William Newberry, working from premises in Walton Street (now the Jovial Judge). The early fifties saw Peter and Paul Newberry join their father under the style of W.E. Newberry & Sons and the purchase of the old established (1916) James Street funeral undertaking business of B.R. Miller, up to then their only competitor.
After the death of their father in 1966, Paul and Peter Newberry carried on as Newberry's Funeral Home with assistance from staff. During the years, both had become world famous entertainers and as entertainment bookings from around the world consumed all their time now, they had no option but to sell the business in 1972 to another Whangarei family, Oliver and Sons. Further on, the business was sold to two more local families forming a partnership, David Spence and Bernie Saunders with Eric Maffey, holding a dual license for Funeral Directing and Embalming employed as Manager. In the early 1980's Eric and Jenny Maffey purchased the business from the partners. Different premises were purchased as the business grew, however, in 2004, Eric and Jenny wished to retire to the South Island and Freda Taylor purchased the business from Eric and Jenny Maffey. Freda married one of Eric's staff and now this local couple Freda Taylor and her husband John Squire, also a Licenced Funeral Director and Licenced Embalmer operate Newberry's Funeral Home today ensuring that integrity and commitment to their community is just as important today as it was in 1866.
Newberry's Funeral Home is the only locally owned and operated funeral service provider in Whangarei and the team care very much for their community. Both Freda and John are actively involved in Rotary, the Onerahi Community, their church and through the business, sponsor and support as many local organizations as they can. Proud to be locally owned.
In 2011, owner/operator Freda Taylor purchased the former Northern Bakeries Building and relocated the funeral home into the site. The interior of the building was carefully and purposefully designed over a fifteen month period by Freda and her architect, ensuring each family's needs and requests could be accommodated. Being a local owner operator and believing in the future of Whangarei, this acquisition meant Freda could enhance Newberry's Funeral Home's continued commitment to the community as they have done since 1866 with a building large enough to accommodate future requirements, but rooms small enough to be homely.